Enable Your Business To Create Applications With Software Development
Software development provides a series of steps for programmers to create computer programs. This process makes up the phases in the software development life cycle. Software needs to be maintained with latest updates and security vulnerabilities.
SDLC methodologies support the design of software to meet a business need, the development of software to meet the specified design and the deployment of software to production. A methodology should also support maintenance, although that option may or may not be chosen, depending on the project in question.
WEB DEVELOPMENT
Our team will use cutting-edge technologies to create modern web application.
MOBILE APPLICATION
Our experts will create your native Android or Apple iOS applications.
ERP DEVELOPMENT
Allow our experts to create an ERP System for a unified solution in your organization.
---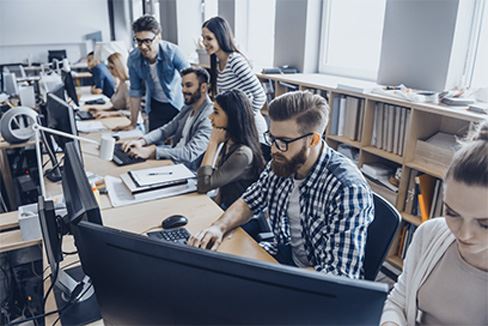 Product Development enable builds software products for service providers and membership organizations. The potent combination of their expert knowledge and our cutting-edge technology leads to compelling apps for their customers and members.
The mobile revolution has caused a sea change in how companies interact with their stakeholders. Organizations increasingly have to make their applications available on the move for suppliers, customers and employees.
Our team integrates with major ERP systems such as SAP, Oracle and Microsoft Dynamics. In addition it can pull in data from bespoke in-house systems so often found within wholesalers, builders merchants and buying groups.
---